Veranda is a Hidden Object Location in the Seekers Notes: Hidden Mystery game.
Veranda was introduced to the game as part of the Enchanted Harvest Update released on November 10, 2016 to celebrate Thanksgiving Day and comprised the main part of that update's Timed Challenges.
It was an Event Location for the month of November 2016.
Veranda is the 26th location to be added to the Darkwood Town Map.
Unlocking for new players at Game Level 72, Veranda is a Premium Location that requires the Access Pass Raindrop to enter and play.
Diary Entry:
| | | |
| --- | --- | --- |
| " | When we met today, Helen told me about a wonderful place. It turns out that there is an old abandoned house hidden among the noisy roads and luxurious mansions of the city. And attached to this house is a veranda, captivating with its magical atmosphere. The girl confessed to me that she loves to sit on this veranda, enjoying the fresh air and the rustling of falling leaves. But there has been rumors in the city that this place is inhabited by ghosts, and Mayor Smallcat has ordered that the old house be locked. However, the citizens have expressed their desire to continue relaxing on the enchanting veranda. So Helen asked me to find a key to this place. | " |
Unlocking and Open Quest
Edit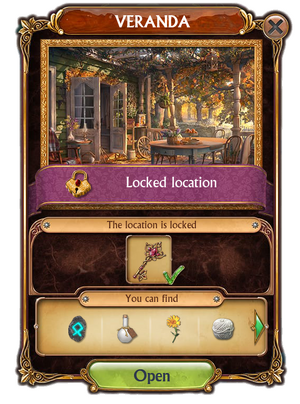 Veranda unlocks at Game Level 72.
During the Enchanted Harvest Special Event challenge, Players level 11 or higher were able to unlock this event location.
A Quest will start to find the missing Key. The Veranda Key can be found by exploring any of the other unlocked Hidden Object Locations and successfully completing it.
Once unlocked, Veranda requires Special Item Access Passes to play. In addition to Energy Points, a certain number of the Access Pass called Raindrop is required for each play of Veranda. The number of Raindrops needed depends on the Rank of the Location.
Once the event ended with the 2016 Christmas Update, Veranda still requires Special Items/ Access Passes to play.
Raindrops may now be obtained in the following ways: as a reward for successfully exploring any of the other unlocked Hidden Object Locations, both Regular Locations which require only energy to access such as Mayor's Office and Premium Locations which require special items to access such as Clothing Store; by combining Collections such as the Campaign Play Collection; as a bonus for Visiting Friends' Maps; and received as Free Gifts from Friends.
Veranda is now a Premium Location. Playing this location during Special Event Timed Challenges will yield 5 to 8 Special Event Access Passes per win.
The following is a list of Hidden Objects that can be found in Veranda. Depending on the Rank and Game Mode you may not have to find all the items in one play of the Location.
Birdhouse
Blue Tit
Butterfly
Calendar
Candle
Cat
Clock
Corn
Cornucopia
Cow
Cutting Board
Dog
Eggplant
Frog
Frying pan
Garden Gnome
Garden Shears
Hat
Horse Collar
Horseshoe
Hourglass
Iron
Kettle
Knife
Ladybug
Melon
Nest
Owl Figurine
Padlock
Painting
Paper Boat
Paper Plane
Plate
Pincushion
Smoker
Squirrel
Straw Hat
Sundial
Sunflower
Tankard
Toy Dog
Trowel
Watermelon
Wheelbarrow
Windchimes
Morph mode has its own items that need to be found, separate from those listed above.
Collection Item Sets
Edit
Listed below are the Collection Item sets specific to the Veranda location. note a random artifact fixer is also awarded when a collection is combined.
Cornucopia can be found above the door hidden in the leaves
In morph mode, the small letter on the glass door pane is usually an item