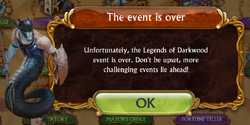 Timed Challenges are Special Events during which the Player must complete a series of quests within a specified time duration and achieve the "winning conditions" to gain the reward.
First introduced during the game's Foggy Ship Update on September 21, 2015, Timed Challenges have been included in subsequent game updates which unveil new Hidden Object Locations in the Seekers Notes: Hidden Mystery game.
Updates with Timed Challenges occur on a monthly basis and offer Players the chance to earn unique rewards such as special new Avatars, talismans, chests and decorations for the desktop. Each challenge brings new monsters/ creatures to banish along with new quests and new collections, all of which disappear once the Timed Challenge has ended.
Please note that once the timer for an event expires, it is no longer possible to earn the rewards for that event.
Missed out on an event? Don't worry!
Collection Items and Fixers from all past events are available as Chests for purchase from the Store. The Hidden Object Locations from past events become integrated into the overall storyline so new Players will unlock them upon reaching the required Experience Level in the game.
List of Special Event Timed Challenges
Edit
The following is a list of the Special Event Timed Challenge Updates released for the game:
Hints/Tips
Edit
- The amount of time available for the timed challenges is set and the countdown timer began upon the update's release. The time limit remains the same across all platforms regardless of release date.
- To reach Virtuoso level in the Timed Challenge's event location takes 150 plays, which requires 3285 access passes aka "keys".
As a guide, in order to reach Virtuoso Rank on the Special Event Location, and win the new Avatars, you will need to play the location 150 times, which will require 3,285 Access Passes!
Level
 % Progress
# Plays
# Access Passes
Total Access Passes to finish
Novice
20%
5
5
25
Amateur
25% every 2 plays
8
10
80
Connoisseur
25% every 3 plays
12
15
180
Sleuth
4%
25
20
500
Detective
1%
100
25
2,500
Total to Virtuoso level for Avatars and Medal
3,285
Resource Demands of Playing the Special Event Location
Rank
Resource Costs
Minimum Resource Rewards
Energy Points
Access Passes
Coins
Reputation
Novice
7
5
40
5
Amateur
10
10
50
8
Connoisseur
13
15
60
11
Sleuth
16
20
70
14
Detective
19
25
80
17
Virtuoso
22
30
90
20