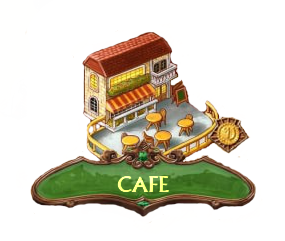 The following is a list of currently available Hidden Object Locations in the Seeker's Notes: Hidden Mystery game.
As of February 2019, there are now 60 Hidden Object Locations available to play. These Locations are interspersed among the game's 4 Puzzles and 3 Crafting Stations on the Darkwood Town Map.
At the beginning of a new game, only one Location, 'Cafe' is unlocked.
Progressing through the game unlocks additional Hidden Object Locations.
List of Pictures
Edit
Listed below are the Hidden Object Locations, the level required to unlock each one, and whether an access pass is required to enter and play them.
Note: A new Hidden Object Location is unlocked every 3 levels. Museum is out of sequence due to the location being introduced during a special event challenge, before the event ended and the challenge rooms (House of Toys and Winter Park) were assigned levels.
Special Item Pictures
Edit
Some pictures require special items (aka access passes/keys) in addition to energy points in order to play them. The 2015 Christmas Update changed special items so that they can now be potentially won from every single Hidden Object Location at every single Location Rank.
All the Special Items/ Access Passes can be obtained in the following ways: by winning plays of any Hidden Object Location, by combining certain Collections in the game, as part of a daily bonus for Visiting Friends, given as Free Gifts to Friends, or bought in the Store. =)
There are currently 15 different Hidden Object Locations that require Special Items, in addition to energy points, for each play. Known as Premium Locations, these include the original 3 Hidden Object Locations added when the game was released, and the 10 new Hidden Object Locations added by subsequent updates to the game. This means that currently 14/56 or one fourth of all Hidden Object Locations require Special items to play:
Additionally, there are 21 Hidden Object Locations introduced in Special Event Updates which once required Special Items to access, but when the duration of the event ended, the requirements no longer applied and these locations now require only energy points for each play and are locked by level for newer players to the game.