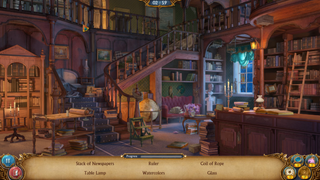 Library is a Hidden Object Location in the Seeker's Notes: Mysteries of Darkwood game.
Unlocking and Open Quest
Edit
The following is a list of Hidden Objects that can be found in Library. Depending on the Rank and Game Mode you may not have to find all the items in one play of the Location.
Bird
Bird Cage
Bookmark
Calendar
Coil of Rope
Decanter
Feather Duster
Folder
Glass
Glass of Candies
Inkwell
Jewelry Box
Letter Sign
Owl Figurine
Paintbrushes
Palette
Plaid
Ruler
Stack of Newspapers
Statuette
Table Clock
Table Lamp
Typewriter
Umbrella
Watercolors
Collection Item Sets
Edit
Listed below are the Collection Item sets specific to the Library Location. note a random special fixer is also awarded when a collection is combined for the first time.
Coming Soon...